LINPEX

Attendees look for stamps to enhance their collections.
LINPEX 2011
LINPEX 2011 was held Saturday, Feb. 26, 10 a.m. to 6 p.m. and Sunday, Feb. 27, 10 a.m. to 3 p.m.
Palmares
Twenty-two exhibits received a variety of awards. See the list of medals earned.
Program
You can view the program to see the list of exhibits and dealers.
Location
Holiday Inn Lincoln Downtown
141 N. Ninth St.
Lincoln, NE 68508
Phone: 402.475.4011
Fax: 402.475.9011
Directions: Map
Reservations: Web site.
Publicity
Cover and Cachet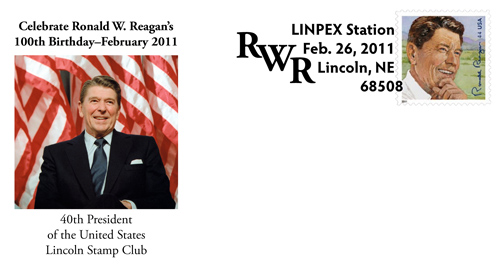 LINPEX 2011 Show Cover
The Lincoln Stamp Club honored President Ronald W. Reagan on the occasion of the centennial of his birthday, Feb. 6, 2011.
The event cancellation features his initials, RWR, along with the date and place.
Download a print-resolution image of the cover.
Covers may be ordered by mail. Send payment of $2 for a single stamp, along with a SASE to:
Lincoln Stamp Club
3240 Sheridan Court
Lincoln, NE 68506-6142.
Questions
Please contact the Club with questions.
Information for Exhibitors
LINPEX 2011, the annual philatelic event hosted by the Lincoln (Neb.) Stamp Club, featured a competition for single- and multiple-frame exhibits on Feb. 26–27, 2011.
The maximum number of frames per exhibit is ten for adults and five for juniors. The entry fee for each exhibit is $10 plus $5 per frame. Frame fees are free for junior exhibits, which require only the $10 entry fee.
A panel of three judged the exhibits. Their decisions were final. Judging granted awards on five levels: Gold, Vermeil, Silver, Silver–Bronze, and Bronze. Each exhibitor received a certificate of participation. Other awards will include those provided by AAPE, ATA, and USSS. The deadline for submitting entries for the competition was Jan. 31, 2011.
Forms
You can download the prospectus and an entry form for submitting an exhibit.
You may also request these documents by mail from the exhibit coordinator:
David M. Frye
5600 SW 80th Court
Denton, NE 68339-3332.
Exhibit Judges
Three judges reviewed exhibits. We were glad to welcome the following judges to LINPEX:
H. James Maxwell

Bill Schultz

Alan Warren.
Archive